Brilliant Mistake
From ZineWiki
Jump to navigation
Jump to search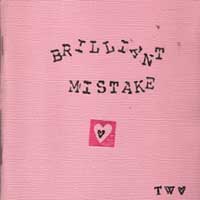 Brilliant Mistake is a perzine out of Chicago, IL, U.S.A. by Carrie.
In the first issue Carrie writes mainly about falling for a friend but also about becoming a teacher. The first issue was written as a birthday present for the friend. The zine includes essays and some poetry. The layout is old school cut and paste with a retro kind of design vibe.
Issue #2 the "Get Over It Issue" is focused on Carrie getting over the friend she fell for. Same old school retro design and hand embossed cover, the content is angrier but again parts are pretty funny. Reading both you definitely get the spectrum of falling for someone, it not working out, and being good and mad about it. But again, it's clear she cares about the person.
Reviews
"What a gem of a debut zine! Beautifully quilted together from bits of a questioning heart, Brilliant Mistake #1 pares down the aches of the social games we play."-EF, Quimby's
"Carrie's second issue lays it bare, rips it raw, burns, shreds and begins to rebuild a devastated heart. Reading Brilliant Mistake #2 cuts to the chase and takes you right there - that place of the furious senselessness of love in tatters - and through reading it you sort out your own wreckage. Trial by fire, and feeling it hard."-EF, Quimby's