Boiled Angel
From ZineWiki
Jump to navigation
Jump to search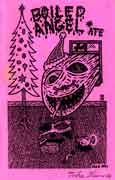 Boiled Angel is a comic zine by Mike Diana.
Boiled Angel was published by Mike Diana in Tallahassee, Florida, U.S.A. in the 1990s. In 1991 and 1992, Diana sold two copies of his publication to an undercover Pinellas County sheriff's deputy. He was charged with three counts of violating obscenity laws, and forced to go to court to defend his art against Assistant State Attorney Stuart Baggish. Diana was assisted at his trial by the Comic Book Legal Defense Fund.
On June 4, 1996, Largo, Florida, Circuit Judge Douglas Baird declared issues #7 and #ATE of Boiled Angel to be obscene. He stated he considered the comic "patently offensive," and that "The evident goal of the appellant's publication is to portray shocking and graphic pictures of sexual conduct so it will be noticed. If the message is about victimization and that horrible things are happening in our society, as the appellant alleges, the appellant SHOULD HAVE created a vehicle to send his message that was not obscene." He was convicted of three misdemeanor counts of distributing, publishing and advertising the obscene Boiled Angel. His sentence was four days in jail and three years probation. The requirements of his probation were that he pay $2,000 in fines, put in 1,284 hours of community service a week, undergo psychological testing at his own expense (which amounted to $1,200.00), and take a journalism ethics course. He is forbidden to have contact with children. His home may be searched unannounced to ensure he is not drawing forbidden subject matter and he was ordered to cease drawing for personal use.
Diana moved to New York, where he fulfilled his community service by working for the Comic Book Legal Defense Fund.
External Links