Blood Roses: A Journal of Dread
From ZineWiki
Jump to navigation
Jump to search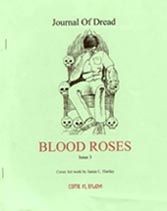 Blood Roses: A Journal of Dread was a literary horror zine edited by Doris Pearson and published by Henry L. Sanders in Jackson, Tennessee, U.S.A.
Blood Roses: A Journal of Dread, was first published in 2000, the result of an amalgamation of four earlier small press publications: Zombie Horrors, Blood Coven, A Coven of Ghouls, and Eaters of the Dead. Issue 2 was released Hallowe'en 2000. Issue 3 was published in 2001.
Contributors of fiction included Katherine Deavers, Suzanne Donahue, Andree Gendron, Jean Harmon, Christine L. James, Jeffrey S. Katt, Brian Knight, D.F. Lewis (Nemonymous), Phillip Lloyd, Larry Sells, Jayne Stark, and K.A. Williams.
Contributors of poetry included Carl Brennan, Kenneth J.P. Drysdale, Sergio Gabriel, Dora Kane, Jeffrey A. Katt, Simon Logan, Lloyd Michael Lohr, H. Lynn, Markus, Joseph W. Miles, Selena Morris, Fiona O'Neill, Terrie Relf, Lewis Sanders, Star, Jayne Stark, and Victoria Tarrani.
Contributors of artwork included James L. Hartley, who did the cover for all three issues.