Big Ole Face Full of Monster
From ZineWiki
Jump to navigation
Jump to search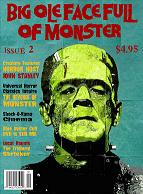 Launched in late 2005, Big Ole Face Full of Monster is a San Francisco, California. U.S.A.-based independent zine that focuses on all things monstrous: movies, books, music, toys, and games with an emphasis on retro and vintage horror and sci-fi.
The look and feel of Big Ole Face Full of Monster hearkens back to the classic monster publications of the 1960s like Famous Monsters of Filmland with a special love for the hot rod/monster connection to be found in CARtoons magazine and the art of Big Daddy Roth.
Features in the magazine include interviews with authors such as the Bram Stoker award winning novelist Tim Lebbon, an historical article on television horror hosts Penny Dreadful and Prof. Griffin, reviews of the latest rockabilly and psychobilly CDs, and, in each issue, the "Bride of the Monster" centerfold—a cheesecake photospread of a sexy model in monster attire by contemporary photographers. Where gothic horror magazines are often a swoopy moonlit waltz in a cemetery, this zine is more of a cocktail party with the Wolfman at the roller rink.
The magazine is 8"x10.75", has a full color glossy cover and a color interior. In length, it is 60-64 pages.
External Links