Betty paginated
From ZineWiki
Jump to navigation
Jump to search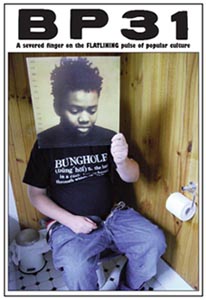 Betty Paginated is a zine focusing on pop culture, particularly trash culture. However, the zine is also a perzine, detailing the ongoing events in the life of editor Dann Lennard and his family.
Betty Paginated, or BP for short, began as a six-page photocopied newsletter in 1992. It was published in Sydney, New South Wales, Australia. Dann published BP#30 in 2007 before going on extended hiatus for personal reasons.
Contributors of art work included Brad Foster, among others.
Dann brought BP out of retirement in 2010, publishing issue 31 in May.
Contact
Dann Lennard at PO Box A1412, Sydney South, NSW, 1235, AUSTRALIA; or danhelen[at]idx.com.au
External Links