Aubade
From ZineWiki
Jump to navigation
Jump to search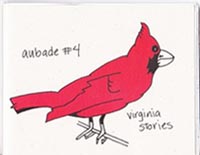 aubade is an annual perzine started in 2005 and written and edited by Katie Ash.
audabe was begun in 2005. It chronicles the trials and tribulations of sophomore year of college of Katie Ash, and onward.
Issue #1 was written in 2005, and it is about connections.
Issue #2 was written in 2006. It is subtitled I Am A Ghost, and it is about making mistakes.
Issue #3 was written in 2007, and it is subtitled The Price of Freedom.
Issue #4 was written in 2008, and it is called Virginia Stories. It is full of stories about growing up in Virginia.
audabe is distributed by Parcell Press, Stranger Danger Distro, Sweet Candy Distro, Things you say distro, Click Clack Distro, and Gimme Brains!!! distro.