Atomic Books
From ZineWiki
Jump to navigation
Jump to search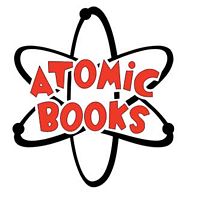 Atomic Books is an independent bookstore, publisher, and distro located in Baltimore, Maryland, U.S.A.
Opened in 1992 by Scott Huffines, the store closed in 2000 and was reopened the next year by new owners Benn Ray and Rachel Whang. The bookstore is widely renowned for carrying alternative and underground publications, including many comics and zines. Its slogan is "Literary Finds for Mutated Minds."
Many of the zines that Atomic Books sells are sold on consignment. The store also sells art toys and other odd items, books, cards and journals, and other items. Atomic Books also receives fan mail for cult filmmaker John Waters.
Selected publications
External links