Anorgasmia
From ZineWiki
Jump to navigation
Jump to search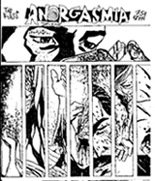 Anorgasmia is a personal zine by Chris Zedgrav, published in Winnipeg, Manitoba, Canada.
Anorgasmia is a cut and paste, photocopied publication that didn't want to be categorized. It had previously been called Acid Burns, of which two very limited runs had been produced. Along with the change of name came a larger circulation for this issue, published in 1989.
Anorgasmia was filled with photographs, collages, articles, art, design, poetry and reviews of recordings. There is an article on how the ban against skateboarding, and the subsequent police crackdown against it, has affected the Winnipeg skateboarding scene; photos by the editor of skateboarders, and of the bands Hypocrisy, and Corpus Vile; a page called "The Anorgasmia Negative page", on which the editor asks for submission of "sick photos, Nihilist death-trip stuff"; fiction by the editor; an article about "Prison Life" by Paul Wright; want-lists of records or tapes; an article entitled "Subtle Apartheid", about the rights of Canada's Native Peoples; clippings from the media about political events; and illustrations and comics. Contributors included M. Smythe, Richard Wesley, and Paul Wright.
There is also an extensive zine review section which includes A Deluded Perspective, The Big Beautiful A.D., Blood Red Albino, Chicken McFanzine, Dribbling Pig Mucous, Genetic Disorder, Godsend, Grot, Homocore, Hyptrip, In Memory Of..., J.D.s, Marmalade Cat, The Moss Side, Octophobia, Renegade Press, SPLAT!, Unity Ov Purpose, and The Wrath of Grapes.