Angry Violist
From ZineWiki
Jump to navigation
Jump to search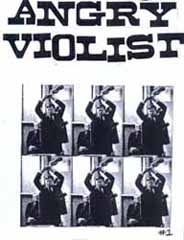 Angry Violist is a zine published in Cambridge, U.K.
The zine is about the subversion and mis-use of classical string instruments and advocates playing experimental music on traditional instruments in an unusual way. It is focused on punk, experimental and avant garde music, along with DIY culture. The zine has profiles of experimental string musicians and how-to information on using violins, violas and cellos creatively and innovatively. It also focuses on the problems and preconceptions that come with being a violist (as opposed to a violinist).
Format and History
The zine is A5 size (issues 1-3 were A6), printed in black and white ink in a collage/cut'n'paste style.
Issues
#4:
an interview with the Raincoats violinist, Vicky Aspinall
a guide to string playing in Krautrock
the amazing Krautrock Krautmap
an appreciation of violists
punk versus folk: which four letter word will win? A look at the similarities between the genres
how to make your playing sound grubby and super-scuzzy
#3:
How to make your own pick-up
String-arrangers, we love you! Looking at the work of Robert Kirby (arranger for Nick Drake amongst others), Timothy Brock (The Cabinet of Dr Caligari) and Carter Burwell (Fargo)
Subharmonics: the crazy anomaly of physics which lets you play an octave lower than your lowest string
Rock'n'roll string quartet: interview with Richard Maximoff of the Hampton String Quartet
Scandinavian folk fiddle playing
Improvising for cowards
#2:
It's a viola, actually: how to befriend your friendly, local violist
Drones! Drones!! Drones!!!
Violin playing for idiots and for the lazy (a DIY guide)
Diabolus in musica and other freaky musical phenomena
Fluxus String Playing and Charlotte Moorman
the Amazing Harry Partch
#1:
All-stars and Heroes: anti- and alternative violinists in history
Your bow, your friend: a guide to violinists or guitar-playing bow owners
Belle-moche, punk-rock and YOU
Transylvanian viola folk music
Learning the violin=evil? Struggling to find your sound against all odds
the amazing sounds of bowed electric guitars
External Link