AK Press
From ZineWiki
Jump to navigation
Jump to search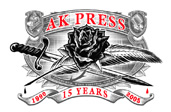 AK Press is an international distro and publisher. AK Press is a workers' co-operative wholly owned by its members.
AK Press distibutes radical books, zines, and other materials, titles that are published by independent presses and titles with which, they believe, you can make a positive change in the world.
All the titles on their website are available to the trade and to individuals. AK Press also carries (or can order) the complete catalogs of a number of publishers - Autonomedia, Black Rose, City Lights, Cleis, Common Courage, Freedom, Microcosm Publishing, The New Press, See Sharp, Semiotext(e), Soft Skull, South End Press, Verso, and others.
External Links