24 Hour Zine Thing
From ZineWiki
Jump to navigation
Jump to search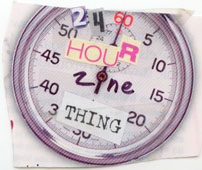 Taking its cue from the 24 Hour Comics Day, which was created by Scott McCloud, the 24 Hour Zine Thing is a challenge to zinesters to create a 24-page zine from conception to final copies in 24 hours.
The zines created should be a challenge for each individual zinester, so most try a new format, or layout that they are unfamiliar with.
Unlike the 24 Hour Comics Day, which happens on a prearranged day each year, the 24 Hour Zine Thing can be done over any 24 hour period during the month of July.
The deadline for finishing the zine is July 31, and the zine must be received by the organizers by September 1.
History
The creator, Julie at rockscissorspaper, was inspired by Scott McCloud's 24 Hour Comics Day and decided to run with it. On the original Frequently Asked Questions page on her website, she stated, "When I did my 4-hour test drive, I started by choosing a picture out of a magazine and pasting it onto the cover. Then I picked a title. And I went from there." Julie hosted the event from 2005 to 2006 on rockscissorspaper, then passed the torch to Sonya and Shannon. Raven joined the team in 2007 when the event moved to their official website, 24hourzines.com, and has ran the event herself since 2010.
Annual Events
The Olympia Timberland Library has hosted a 24 Hour Zine Thing event each year since 2009.
Completed Zines
24HZT 2007
24HZT 2008
24HZT 2009
24HZT 2010
24HZT 2011
24HZT 2012
24HZT 2013
See also
External Links