ZineWiki:Site support
From ZineWiki
Donations
The best donation you can provide is your time. Please add to and edit the current content on the site.
Official Sponsors
Broken Pencil Magazine
"Broken Pencil is the entertaining, indispensable guide to zines." - Betsy Powell, the Toronto Star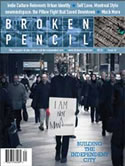 Founded in 1995 and based in Toronto, Canada, Broken Pencil is a website and a print magazine published three times a year. It is one of the few magazines in the world devoted exclusively to underground culture and the independent arts. We are a great resource and a lively read! A cross between the Utne Reader, an underground Reader's Digest, and the now defunct Factsheet5, Broken Pencil reviews the best zines, books, websites, videos, and artworks from the underground and reprints the best articles from the alternative press. Also, ground breaking interviews, original fiction, and commentary on all aspects of the independent arts.
From the hilarious to the perverse, Broken Pencil challenges conformity and demands attention.
---
Clamor Magazine
In 2000, Clamor won "Best New Title" in the Independent Press Awards and has been nominated for "Best Social/Cultural Coverage" every year since.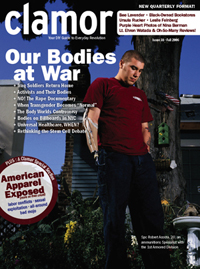 Clamor is a quarterly print magazine and online community of radical thought, art, and action. An iconoclast among its peers, Clamor is an unabashed celebration of self-determination, creativity, and shit-stirring. Clamor publishes content of, by, for, and with marginalized communities. From the kitchen table to shop floor, the barrio to the playground, the barbershop to the student center, it's old school meets new school in a battle for a better tomorrow. Clamor is a do-it-yourself guide to everyday revolution.
In 2002, co-founders Jen and Jason were profiled as two of "30 Under 30" Visionaries who are changing the world. To date, however, Clamor is still an unknown entity to national media outlets like NPR and the New York Times — suckers.