YHOS
From ZineWiki
Jump to navigation
Jump to search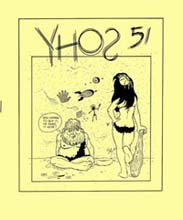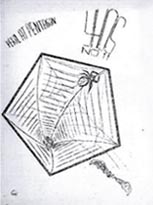 YHOS (acromyn for Your Humble Obiedient Servant) is a long-running fanzine published by Art Widner.
It is a science fiction zine that is published in Orinda, California. U.S.A. and largely distributed through the Fantasy Amateur Press Association. YHOS stands for "Your Humble and Obedient Servant".
It was first published from 1940 till 1945, when the first thirteen issues were produced. Art Widner is well known for the very long break he took from fanzines, but upon his return to activity in 1979 he resumed publication of YHOS till 2001, and issues 14 to 58 were released.
Contributors of writing in the 1940s included Glen Daniels, and George Ebey (Sappho).
Contributors of art work in the years from 1940 to 1945 included Harry Turner (Zenith).
Writing in the period of the 1970s till 2001 was contributed by John Bangsund (Scythrop), Linda Blanchard (Egoboodle), Rich Brown, Michael Farren, Don Fitch, Jane Hawkins, Lucy Huntzinger (Rude Bitch), Ray Faraday Nelson, Debby Notkin, Tom Perry (Quark), Andi Shechter, Roy Tackett, and Tom Whitmore.
Contributing artists included Sheryl Birkhead (The National Fantasy Fan), Brad Foster, Joan Hanke-Woods, Bill Rotsler, Harry Turner, and Taral Wayne (DNQ) in the 1979-2001 period.
Letters came from Charles Burbee (Shangri L'Affaires), and Alexis Gilliland, among others,