Wyrd
From ZineWiki
Jump to navigation
Jump to search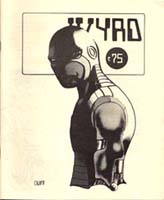 Wyrd was a literary fanzine devoted to science fiction, fantasy and weird fiction.
Wyrd was published in the 1970s, with various editors at the helm. Issue 3, released in Michigan, was edited by Al D. Cockrell and Irvin L. Wagner. Issue 4 was published in Santa Rosa, California by Brian Crist and Greg Stafford in 1975. Issue 6 came from Albany, California and was edited by Greg Stafford in 1976. 1977 saw Issue 7 arrive with the same editor from the same location.
Contributors included C.L. Ballentine, Al C. Cockrell, Phillip Corwin, Al Cox, John DiPrete (Black Lite), George Duck, Deirdre Evans, Chet Gottfried, Jack Goodstein, Stephen Gregg, Wayne Hooks, JeanPaul Jenack, Sol Kaneman, Phyllis Ann Karr (The Literary Magazine of Fantasy and Terror), Theodore Kriner, Mel Laybourne, Gordon Linzer (Space and Time), David Madison, Morno (Brad Schenck), Dirk van Nouhuys, Steve Orliff, Dennis Peyton, Ben G. Price III, Mark Roland, Jessica Amanda Salmonson (The Literary Magazine of Fantasy and Terror), Darrell Schweitzer, Phoebe Solomon, Greg Stafford, Stephanie Stearns, Paul Edwin Zimmer.
Art work was by Breman Bach, Mike Chase, William Church, Tom Clark, Al Cox, Gene Day (Dark Fantasy), Mike Dziewulski, Ernest Hogan, Randy Holmberg, Cliff Kurowski, Mel Laybourne, Morno, Steve Oliff, Mark Roland, Tony Salmons, Mark Schrimeister, Rod Snyder, Peter Stokes, William H. Stout, Steve Swenston.