Windhaven
From ZineWiki
Jump to navigation
Jump to search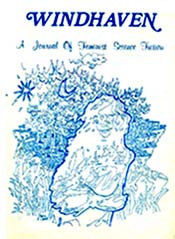 Windhaven is a feminist science fiction and fantasy fanzine by Jessica Amanda Salmonson.
First published in 1977, the subtitle of the publication was "Toward a Feminist and Humanitarian Fantasy and Science Fiction". It was published in Seattle, Washington, U.S.A. Five issues appeared, the last in 1979.
Contributors included Mary Bohdanowicz, Rose Ann Cyrus, Sherri L. File, Jane Gabrielle Beckman, Whit Gibbons, Phyllis Ann Karr (The Literary Magazine of Fantasy and Terror), David Madison, Amy Arnston Marein, Ron Nance, Wilum Pugmire (Midnight Fantasies, Old Bones, Visions of Khroyd'hon), Charles R. Saunders (Stardock, Dragonfields), Jody Scott, Andrea Schlecht, Irene E. Steele, "Lady Jayne" Sturgeon, and Evangeline Watson.
Issue 5 included the ground breaking essay "Why Blacks Don't Read Science Fiction" by Charles Saunders, one of the first such essays to address the role of race in the genre.
Issue 5 featured a cover by Jeanne Gomoll (Janus).