William Wants a Doll
From ZineWiki
Jump to navigation
Jump to search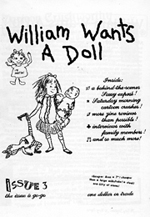 William Wants A Doll is a zine published in New York by Arielle.
Published in the early 1990's, four issues were released. William Wants A Doll features the celebrated girls of fiction such as Eloise and Really Rosie on the front and back covers; inside is filled with recording and live show reviews. Also included are film reviews, but not of the latest Hollywood product; instead movies such as Come Back To The Five and Dime Jimmy Dean, Jimmy Dean, Brewster McCloud, Bye Bye Birdie, and Shack Out On 101 are profiled. Also featured are comics, editorials and interviews with zinesters like Bill of Frisco Piss Co., and Adrian of Optic Nerve minicomic, and articles on thrifting, television, civil disobedience and pornography. Editor Arielle worked for a time as an intern at Sassy magazine and includes an expose in Issue three after she'd left, called "Sassy? Not Sassy!".
There are also reviews of zines such as Bulldozer, Caught in Flux, Everything I Touch Turns to Shit and Garbage, Holy Titclamps, Kelp, Panophobia, Teen Fag, and others.
Issue #4 announces that this is a "zine for girlie boys and buoyant girls".
The last issue of William Wants A Doll was published in 1994.
William Wants A Doll is included in the Sarah and Jen Wolfe Zine Collection at The University of Iowa.
External Link