Warp
From ZineWiki
Jump to navigation
Jump to search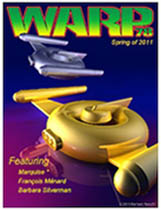 Warp is a science fiction fanzine published by the Montreal Science Fiction and Fantasy Association.
Warp, subtitled The Montreal Science Fiction and Fantasy Newsletter, is published in Montreal, Quebec, Canada. The Montreal Science Fiction and Fantasy Association, or MonSFFA as they called themselves, initially put out 6 issues a year, and now put out 2 issues a year. The most recent issue was the Spring 2011 issue, available online. It was previously edited by Lynda Pelley and is now edited by Cathy Palmer-Lister.
Warp covers literary and media science fiction and fantasy, as well as comics, gaming, animation, scale model building, costuming, memorabilia, film and video production and fandom.
Contributors included Joe Aspler, Josee Bellemare, Keith Braithwaite, Susan Denham, George Dodds, Edouard Dubois, Jr., John Dupuis, Dominique Durocher, Brian Ekers, Glen Grant, Kevin Holden, Guy H. Lillian III (Challenger, The Zine Dump), Stephane Marcotte, Cathy Palmer-Lister, Lynda Pelley, Theresa Penalba, Lloyd Penney (Torus), Ernst-Udo Peters, Alain Peyrefitte, Carl Phillips, Andre Poliquin, Barbara Silverman, Sylvain St-Pierre, and Yves Veilleux.
Artwork was contributed by Bernard Reischel, among others.
The club also makes short amateur films such as Plant 9 From Outer Space, a tribute to Ed Wood released in March 1996, and the sequel, The Fed Ex Files, from the 1990s and, in the 2000s, Encounters of the Very Close Kind (2001), Beavra (2003), Mooseman (2004), and The Simpleton's Life (2005).
Warp won the Aurora Award for Best Fanzine for the year 1999.
External Links