WAR
From ZineWiki
Jump to navigation
Jump to search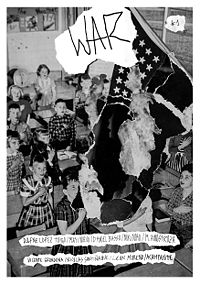 WAR is a contemporary fanzine published in Argentina focussed on uncontrolable actions, ideas and trash, edited and curated by the photographer Nicolas Santiñaque. Besides having the online version, each number has a limited edition, crafted, numbered and silkscreened.
Issues
WAR#1: Dafne Lopez Toigo / Mati Nuevo / Daniel Basso / Niki Noto / M. Hinostroza / Vicente Grondona / Nicolas Santiñaque / Leon Moreno / Acampante.
WAR#2: Yamandu Rodriguez / Hef Prentice / Antonio Savasta / Nina / Rafael Aladjem (Homoxidal500) / Boom Boom Kid / Scorpion Dagger / Zoelandia.
WAR#3: Gustavo Eandi / Luz Ferrari / Gorsad Kiev / M. Pacho Lopez / Santiñaque / Ariel Pukacz / V. Tettamanti / Markie Sparkles.
External Links