Vanessa Berry
From ZineWiki
Jump to navigation
Jump to search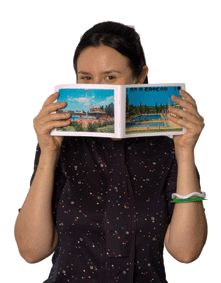 Vanessa Berry is a prolific Sydney, NSW, Australia based artist and zinester, who has published notable one-off and seminal ongoing Australian zines, including Psychobabble (1996-1998), Laughter and the Sound of Teacups (1997-2002) and I am a Camera (1999-).
In 2007 a book of Vanessa's autobiographical stories was published by Local Consumption Publications. Named Strawberry Hills Forever as a tribute to her post office box, the book includes stories taken in part from her zines I am a Camera and Laughter and the Sound of Teacups.
Berry's zine works to March 2009, ~120 zines, was exhibited as part of the exhibition Avoiding myth and message: Australian artists and the Literary world, Museum of Contemporary Art, Sydney, 7 April - 12 July 2009.
Contact
P.O. Box 1879
Strawberry Hills
NSW 2012
AUSTRALIA
Email: vanessaberryworld@gmail.com
Bibliography
2009
2008
2007
2006
2001
2000
1999
1997
1996
External Links