Vanessa Berry
From ZineWiki
Jump to navigation
Jump to search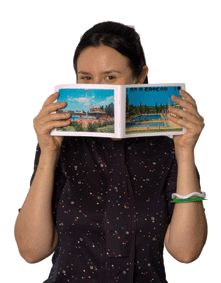 Vanessa Berry is a prolific Sydney, NSW, Australia based writer, artist and zinester, who has published notable one-off and influential ongoing Australian zines, including Psychobabble (1996-1998), Laughter and the Sound of Teacups (1997-2002) and I am a Camera (2000-).
In 2007 a book of Vanessa's autobiographical stories was published by Local Consumption Publications. Named Strawberry Hills Forever as a tribute to her post office box, the book includes stories taken in part from her zines I am a Camera and Laughter and the Sound of Teacups. She is also the author of the zine-influenced memoir Ninety 9 (2013), and the books Mirror Sydney (2017) and Gentle and Fierce (2021).
Berry's zine works to March 2009, ~120 zines, was exhibited as part of the exhibition Avoiding myth and message: Australian artists and the Literary world, Museum of Contemporary Art, Sydney, 7 April - 12 July 2009.
Contact
P.O. Box 1879
Strawberry Hills
NSW 2012
AUSTRALIA
Bibliography
"2021"
"2020"
"2019"
Disposable Camera #14
MUGS (with Katie Haegele)
"2018"
Marrickville Map/Zine
Disposable Camera #13
"2017"
"2016"
"2015"
I Wear Your Clothes Like Armour (Throwing Muses zine, with Chiara Grassia)
"2014"
I am a Camera 17
Everyone Drives a Used Car/Boiracer and Mazdabator split zine (with Alex Wild)
"2013"
Split YOU/Disposable Camera (about The Housemartins)
Summer Here/Winter Here (split zine with Katie Haegele
"2012"
Biblioburbia
Time Attack Beast
"2011"
I am a Camera 16
Disposable Camera #12 (The Melbourne Issue)
"2010"
Kingdom by the Sea
Fern Zine
Still Looking for Junk, with Simon Yates
Vinnies - Blue Ribbon Edition. (Reissue of 1999 zine.)
various issues of Disposable Camera
2009
2008
2007
2006
2001
2000
1999
1997
1996
External Links