Ugly American
From ZineWiki
Jump to navigation
Jump to search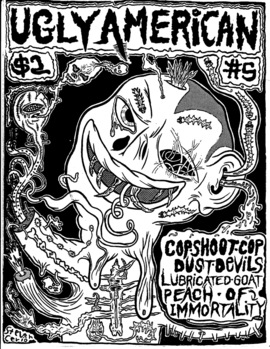 Ugly American was a music and pornography fanzine published for thirteen issues from 1988 to 1999. The New Jersey-based zine was published out of Pomona, New Gretna, Little Silver and Jersey City, although it retained strong ties to both the Red Bank music scene and the Pine Barrens, home of the Jersey Devil.
While there were many contributors over the years (see below), there were only four "core" contributors who stayed with the zine for all or most of its existence: Greg Chapman (founder, writer, editor), Ed Sullivan (writer, co-editor), J. Marlowe (writer and sole editor of UA #13), and Rob B. (aka The Sly-Wandering Vagrant; writer, photographer). Circulation consisted of 50 to 1,000 copies per issue, and the main distributor was the New York City store See Hear, although for several years Tower Records also distributed the zine. Financially, the zine operated at a loss for its entire run, primarily due to marginal sales and scant advertising (both for and within the zine). Ugly American's aesthetic slant can be seen in the following partial list of featured bands and interview subjects spanning all thirteen issues: 9353, Astoveboat, Bewitched, Blue, Brainbombs, Bunny Brains, Butthole Surfers, Candy Apples, Christy Canyon, Codger, Cop Shoot Cop, Dog Faced Hermans, Drunks With Guns, Dustdevils, Dwarves, Earth, Eyehategod, Fireball Head, GG Allin, Gregory Dark, Holli Woods, Human Remains, Jack*O*Nuts, John T. Bone, Katie Gold, Kim Chambers, King Carcass, Lake of Dracula, Lightning Bolt, Liquorball, Lithium X-mas, Live Skull, Lubricated Goat, Matt Zane, Mila, Moistboyz, Monster Magnet, Morbid Angel, Mule, My Bloody Valentine, Nina Whett, Nokturnel, Pain Teens, Pussyman, Rake, Rapeman, Schoolly D, Silver Apples, Six Finger Satellite, Skullflower, Sonic Boom, Spacemen 3, Spiritualized, Suckdog, Sun City Girls, Tad/Nirvana, Temple of Bon Matin, The Shit Spangled Banner, Thee Hydrogen Terrors, To Live and Shave in L.A., Upsidedown Cross, and Wildbill Witrock.
History
Ugly American was founded by Greg Chapman in 1988 for two reasons: First, he wanted to create a forum for interests - which included abrasive indie rock, death metal, hip-hop, pornography, drugs and the occult - that were not being adequately addressed by either the mainstream or underground media; Second, he was disillusioned by his perception of both an increasingly commercial independent music scene and a correspondingly sycophantic and opportunistic alternative press, the latter of which seemed to greet each new, successively more Top 40-oriented release with ever-greater enthusiasm. The result was a literary threshing machine that was used more to destroy the effete manifestations of indie rock than to champion new bands. Although most of Ugly American's writers were influenced by the caustic commentary of Forced Exposure and Conflict, they regarded the insider status of Byron Coley, Jimmy Johnson and Gerard Cosloy as antithetical to critical autonomy, and consequently adopted a less compromised and more brutally honest approach to criticism. During the "peak" years of "alternative rock" (1989-1993), nearly every rock-oriented music label extant added Ugly American to their mailing list, only to inevitably blacklist the zine once said labels discovered that they couldn't establish the customary quid pro quo of positive reviews for the latest releases. In a roundabout way, Ugly American could be viewed as the shadowy counterpart to CMJ magazine, because while the zine's gleeful antagonism alienated most labels, it also built a fanbase of industry associates and musicians equally critical of the machinations of the music business. Gerard Cosloy, Lyle Preslar and Ben McOsker (of Load Records) were a few of its alleged fans, and for a brief period Chapman contributed to both Forced Exposure and Your Flesh (as well as Swank magazine, for which he continues to write video reviews). Musicians who wrote for the zine included Tod Ashley (Cop Shoot Cop and Firewater), Lisa Carver (aka Suckdog), Tim Cronin (ex-Monster Magnet), Tom Smith (Peach of Immortality and To Live and Shave in L.A.), Bliss Blood and Scott Ayers (Pain Teens), Stefan Jaworzyn (ex-Skullflower), Simeon (Silver Apples), and Scott Ruth (Ripping Corpse and Dim Mak). Other contributors included Steven Cerio (illustrations for Dustdevils, The Residents, Monster Magnet, Helmet, et al.), Stephanie Himes, Rob Leecock, Tom Chesak (aka Reed Linklater Jr.), Freddy the Bastard, and Floyd Hardwick of Skin Trade magazine.
As to the "core" contributors, there are only a few relevant facts. First, three of the four original members were involved in small-scale (and now defunct) musical projects that, like Ugly American, had a handful of diehard supporters and numerous detractors. Chapman and Sullivan comprised two-thirds of Frown, Chapman was involved with Woozlebug and Evil Acidhead, and was a touring member of both Temple of Bon Matin and To Live and Shave in L.A., Marlowe released solo work under the Holland/Skin/Tunnel moniker, and Sullivan fronted the noise-rock bands Dead Air and Finished. Second, Ed Sullivan left after issue #10 for personal reasons, and the zine changed for both the better and the worse. Sullivan's sharp intelligence, scathing humor and generally excellent writing - all of which were instrumental in shaping Ugly American's identity - were sorely missed. On the other hand, the remaining members viewed the change as an opportunity to move the zine in a different direction, and the pieces written after Sullivan's departure are in general characterized more by extended forays into absurdist musing, abstract speculation, drug-fueled exegesis, and ramshackle critical theory than by the cheerfully vicious brevity of Ugly American's early years. And on a final note, Chapman suffered a stroke not long after issue #12 was released, and the zine appeared to be finished. Marlowe subsequently edited and financed the entirety of issue #13, as he and Chapman were the only two contributors at that point. Chapman felt the issue to be consistent with the previous issues, and Ugly American folded, he thought, "at the top of its game".
As of 2014 the publishers and authors of Ugly American are placing selected material from back issues online. A link to the website is below in the External Links section.
Issues 1988-1999
#1 - Fall 1988 - n/a

Butthole Surfers; 20 pp.

#2 - Winter 1988 - "Behind the Times and Loving It"

Drunks With Guns, GG Allin, Steve Albini/Rapeman; 38 pp.

#3 - Spring 1989 - "We'll Make You Embarrassed To Be Alive"

Live Skull, Sun City Girls; 38 pp.

#4 - Winter 1989 - "The Apex of Pointless Hero-Worship"

Tad/Nirvana, My Bloody Valentine, Suckdog, Dwarves, King Carcass, Stripminers; 72 pp.

#5 - 1990 - "The Hate Ogre of the Underground"

Cop Shoot Cop, Peach Of Immortality, Dustdevils, Lubricated Goat, Steven Cerio cover art; 78 pp.

#666 - 1991 - "The Doomsday Machine of Fanzines"

Monster Magnet, Skullflower, Morbid Angel, Pain Teens, Upsidedown Cross; 76 pp.

#7 - 1992 - "Where Hope is Only the Beginning of Hopelessness"

Monster Magnet tour diary, Liquorball, Bewitched, Lithium X-mas, Caroliner, My Bloody Valentine interview backlash; 52 pp.

#8 - 1993 - "The Great Satan of Music Publications"

Sonic Boom, Eyehategod, Jack*O*Nuts, Cop Shoot Cop tour diary, Pain Teens tour diary, Tod Ashley cover art; 66 pp.

#9 - 1994 - "The Snot Heard 'Round the World"

To Live and Shave In L.A., Dog Faced Hermans, Schoolly D, Moistboyz, Mule tour diary, Blue, Brainbombs, Kim Chambers, Codger, Fireball Head, Rake, Rob Leecock cover art; 138 pp.

#10 - 1995 - "The Combat Room-Fogger of Fanzines"

Bunny Brains, 9353, Spiritualized, The Shit Spangled Banner, Human Remains, Nokturnel, Rob Leecock cover art; 116 pp.

#11 - 1996 - "Love It or Leave It"

Six Finger Satellite, Earth, Thee Hydrogen Terrors, Roy Ferdinand, Tom Smith cover art; 130 pp.

#12 - 1997 - "Support Our Troops"

Silver Apples, Lightning Bolt, Gregory Dark, Lake Of Dracula, Temple of Bon Matin tour diary, To Live and Shave in L.A. tour diary, Candy Apples, John T. Bone, Astoveboat, Holli Woods, Matt Zane, Simeon/Peg Udall cover art; 152 pp.

#13 - 1999 - "Better Living Through Animosity"

Katie Gold, Mila, Pussyman, Wildbill Whitrock, Nina Whett, Stephanie Himes cover art; 210 pp.
External links