Trap Door
From ZineWiki
Jump to navigation
Jump to search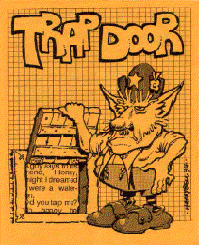 Trap Door is a science fiction fanzine by Robert Lichtman. As of March 2016, a total of 32 issues have been published. It was nominated for a Hugo award for Best Fanzine in 1987 and 1992, but did not win (probably due to its low circulation).
Previously Robert Lichtman had published Psi-Phi in the 1950s and early 1960s, Frap in 1963 and 1964, and 100% Whole Wheat in 1965 with Miriam Knight (Klein Bottle, A Funny Thing Happened On The Way To Poughkeepsie). After a period of being away from fandom he returned in the 1980s and began publishing Trap Door in 1983 in Glen Ellen, California, U.S.A. He is a longtime member of the Fantasy Amateur Press Association (FAPA), with his current membership starting in 1984 (and a previous one from 1962-70), and has served as its Secretary-Treasurer since 1986. He's also a member of long standing of the Spectator Amateur Press Society (SAPS), his current membership dating from 1982 (and previously from 1959-65).
Contributing writers to Trap Door have included Chester Anderson, Mal Ashworth, John Baxter, Greg Benford (Void), Ron Bennett (Ploy, Skyrack), John D. Berry (Egoboo), Jeanne Bowman, Richard Brandt (Fanthology '87), William Breiding (Star Fire), rich brown, F.M. Busby (Cry of the Nameless), Gregg Calkins (Oopsla!), Carol Carr, Terry Carr (Lighthouse, Innuendo. Klein Bottle), Graham Charnock (Wrinkled Shrew), Sidney Coleman, Avram Davidson, Calvin Demmon (*Skoan*), Mike Dobson, Bill Donaho (Habakkuk), Gordon Eklund, John Foyster (Australian Science Fiction Review (second series)), Steve Green, Karen Haber, Rob Hansen (Pulp, Chuch), Jim Harmon, Chuch Harris, David Hartwell, Lee Hoffman (Quandry), John Hertz (Vanamonde), John-Henri Holmberg, Gary Hubbard, Lucy Huntzinger (Rude Bitch), Arnie Katz (Vegas Fandom Weekly), Joe Kennedy (Vampire), Roy Kettle, Jay Kinney (Nope!), Dave Langford (Ansible), Andrew Main, Eric Mayer (E-Ditto), George Metzger, Joel Nydahl (Vega), Frederik Pohl (The International Observer of Science and Science Fiction, Arcturus), Chris Priest, Boyd Raeburn (A Bas), Marta Randall, Bob Shaw, Bob Silverberg (Spaceship), Dale Speirs (Opuntia), Larry Stark (Garage Floor), Dan Steffan (Boonfark), Steve Stiles, Candi Strecker (Sidney Suppey's Quarterly & Confused Pet Monthly), Geri Sullivan (Idea), Bruce Townley (Oblong), Bob Tucker (Le Zombie, Science Fiction Newsletter), Shelby Vick (Confusion), James White (Slant), Ted White (Null-F) and Paul Williams (Crawdaddy). Also included were reprints of articles by writers such as Redd Boggs (Sky Hook) and Charles Burbee (Shangri L'Affaires).
Artwork has been published by Harry Bell (Grimwab), Grant Canfield, Ross Chamberlain (Fangle), Brad Foster, Rob Hansen, Teddy Harvia, Lee Hoffman, Jay Kinney, Bill Kunkel (Rats!, Four Star Extra), Ray Nelson, Bill Rotsler, Craig Smith, Dan Steffan, Steve Stiles, ATom and D. West.
Included in #17 was a poem by Julia Vinograd, For Dick Ellington, Berkeley Typesetter, on the occasion of his passing.
An installment of the column "The Cracked Eye" by Gary Hubbard was selected for reprinting in Fanthology '87.
Trap Door first won the FAAn Award for Best Fanzine in 2000, with "No.1 Fan Face" Award that year going to Robert Lichtman. In 2004, Trap Door again won Best Fanzine, and for a third time in 2011. Subsequently the Best Fanzine category was split into three categories: Best Genzine, Best Personal Fanzine and Best Single Issue. Trap Door won for Best Single Issue in 2013, 2014 and 2015. Lichtman also won the Harry Warner, Jr. Memorial Award for Best Fan Correspondent in 2001, 2006, 2008, 2010, 2011, 2012, 2013 and 2014.
Robert Lichtman has also edited some special fanzines over the years: Ah! Sweet Laney! in 2007 (a 134-page selection of the writing of F. Towner Laney, with supplementary material by Robert Bloch, Charles Burbee and Jack Speer; published by Pat Virzi), Fanorama: Walt Willis' Fan Column from Nebula Science Fiction in 1998 (a 100-page collection of Willis's "Fanorama" columns in Nebula as well as later ones in Peter Weston's Zenith; published by himself), Some of the Best From Quandry in 1960 (a 20-page selection of articles from the named fanzine; published by himself) and three "fanthologies", Fanthology '92 (a 41-page collection published by Lucy Huntzinger in 1996), Fanthology '93 (a 55-page collection published by the Corflu Wave committee in 1997) and Fanthology 1994 (a 62-page collection published by the Corflu 2000 committee in 2000).
External Links