To Gaza And Back
From ZineWiki
Jump to navigation
Jump to search
The printable version is no longer supported and may have rendering errors. Please update your browser bookmarks and please use the default browser print function instead.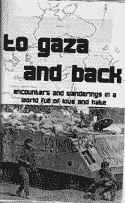 To Gaza And Back was a zine published by an anonymous writer in 2002.
It was a 100 page travel journal about two people traveling from Eastern Europe on to Turkey and down into Israel and Palestine and back.