Thrift Score
From ZineWiki
Jump to navigation
Jump to search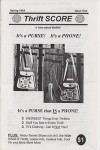 Thrift SCORE was a zine about thrifting by Al Hoff, a woman reporter from Pittsburgh, Pennsylvania, U.S.A., who loves to thrift.
Subtitled, "the zine about the fun of too much thrifting," Thrift SCORE was the ongoing chronicle of Al Hoff's adventures in thrift stores, which included her experiences with other shoppers, as well as descriptions of popular thrift store items in articles like "Collectible Mania," and tips on second-hand shopping. The second issue was published in the summer of 1994.
Issue 14, the final issue, was published in 1999. In the introduction, Hoff listed several reasons that she was ending the zine, including: "reproducing this has become a major headache," "I'm out of questions and mysteries," and "I hardly even thrift anymore."
In 1997, Hoff published the book Thrift Score: The Stuff, The Method, The Madness! (HarperCollins, ISBN 0060952091)
Thrift SCORE is included in the Sarah and Jen Wolfe Zine Collection at The University of Iowa. Some issues are held at the Barnard Zine Library, as well.
Issues
#1 The Purse Phone!: Weirdest Things Ever Thrifted, Stuff You See in Every Thrift, Can 70s Clothing Hurt You?, Trashy Books
#2 The Big Art Issue: Interview with Jim Shaw (collector/exhibitor of Thrift Store Paintings), 75 Things I Hate About Thrift Shopping, kd lang's Shirt, Andy Warhol's Wigs, Shaft's Big Score, Wide World of Thrifts, Po$eur Alert. Summer 1994.
#3 Close-Up on Denim: Part 1 of Crazy Things that Happened to Jeans (dawn of man - 1977), Russ Forster on 8-Tracks, Sal Vincent on Leftover Vinyl, Biggest Thrift Regrets, Use Your Thrift Dollars to Help Jim Bakker
#4 TOO Much Stuff?!?: Stocking Up for that C.B. Radio Revival, Readers' Kooky Collections, Thrift-related Book Reviews, Checkin' Out the Thrift Scenes in Hamburg, Germany, and San Francisco
#5 How To: Get Banned from a Thrift, Tell Fabrics Apart, Buy Paint-by-Numbers, Find a Thrift in Finland, plus Thrift SCORE TV Appearance, The Plastic Eye Miracle, Behind-the-Scenes Thrift Tales
#6 Swimsuit/Tiki Party Issue: Thrift Your Way to a Tiki Party, Searching Out Cool Old Swimsuits, I Love K-tell Records, Chicago Thrift Report, Readers' Dream Thrift Items (includes Teeny Tiny Tiki Drink Book)
#7 Designer Jeans: Part II of Jeans, Sewing Patterns, Thrift Crime Log, Behind-the-Scenes at the Goodwill, Thrift Items of the Future, Thrift Book Reviews
#8 Party Like It's 1976: 20th Anniversary of the Bicentennial, The All-Metal Office, Manual Typewriters, Thrift Movie Scenes, Thriftin' with Tammy Faye Bakker, Suitcase Storage
#9 Fantasy Celeb Thrift Partners: Sleep in Style - Pajamas!, Lamp + Plant = The Plamp, Thrifting Computer Game. 1996.
#10 The Love Issue: Romantic Board Games, To Date Thrifters or Non-Thrifters?, Harlequin Books, Singles Advice Books. 1997.
#11 Thrift Karma and Dreams: Thrift Store Dreams, Jeans Part III (The Scary 80s!), The Egg Chair, The Editor Meets Barney
#12 Mystery Bonus Finds: Found Objects, Aluminum Xmas Trees, More Fun Thrifted Games and Gospel Records, Mending Tips
#13 The Big Rant Issue: State of the Thrift Union, Collectible Mania, Thrift Store Upgrades, Billion Dollar Jeans, Thrifting for a Living, The Canyon of Used Dishes
#14 The Farewell Issue: Positive outlooks, snapshots from halcyon days thrifting in Chicago, Wrecks and Records. 1999.
External Links