Thingumybob
From ZineWiki
Jump to navigation
Jump to search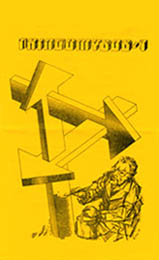 Thingumybob was a fanzine by Chuck Connor.
Thingumybob was published in the 1990s in the UK. In was a 'gen' zine, in other words 'general interest', although most of the contributors came from the science fiction fanzine scene. The first issue was released in 1991, and the last issue, #15, in 1996.
Contributors of artwork included Cathy Easthope, Ann Green (Ormolu, Thunderbox), Dave Hicks, Steve Jeffery, Harry Turner (Zenith, Now & Then), and Leslie Ward (Domble In The Works).
Contributors of writing included Jane Carnell, Jenny Glover (Maverick), Ann Green, Philip Heggie, Caroline Mullan (The Mirror Cracked), Pat Silver, and Harry Turner.
Contributions of poetry came from Dail Chaffin, among others.
Letters came from Charles Broerman, among others.
Reviewing issue 15 of Thingumybob, Andy Hooper writes in Apparatchik #74 of February 1997, "We haven't seen anything from Sildan House for a while, so I'm glad to get this new issue of T-Bob. Chuck has always fancied himself a fringe-fan, with interests that only obliquely intersect with fandom, and this issue serves to underline that attitude more than ever."
External Links