The World of Yesterday
From ZineWiki
Jump to navigation
Jump to search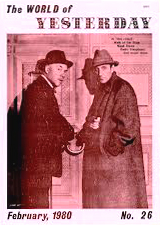 The World of Yesterday was a fanzine published by Linda and Ron Downey.
The World of Yesterday, was published in Clearwater, Florida, U.S.A. in the 1970s, later from Waynesville, North Carolina. It began in 1976, and was published from February 1976 to August 1983. 42 issues were released. It merged with Films of Yesteryear in 1984 to become Double Feature.
As the title suggests, this publication features articles dealing with entertainers from the first half of the 1900s. Included are such topics as movie actors, such as Vilma Banky, Billy Barty, The Bowery Boys and The Dead End Kids, Mel Blanc, Nigel Bruce, John Bunny, John Garfield, Al Jolson, Harold Lloyd, Butterfly McQueen, Agnes Moorehead, Dick Purcell, Claude Rains, Thelma Ritter, Lizabeth Scott, Frank Sinatra, Fuzzy St. John, Thelma Todd, The Three Stooges, Mae West, Jane Withers, and Ed Wynn; movie characters such as Bulldog Drummond, The Green Hornet, Ma and Pa Kettle, and Sherlock Holmes; serials such as Drums of Fu Mancho; and recording artists such as The Andrew Sisters, Perry Como, Wanda Hendrix, Lola Lane, Guy Lombardo, Spike Jones, Glenn Miller, Les Paul and Mary Ford, the recordings of Baby Rose Marie, the recordings of Fanny Brice, the recordings of Alice Faye, and the recordings of George Jessel have been just some of the topics, among many others. Included are extensive filmographies and discographies.
Articles were contributed by James Jewell, Lewis Krohn, and Charles Stumpf.