The Spanish Inquisition
From ZineWiki
Jump to navigation
Jump to search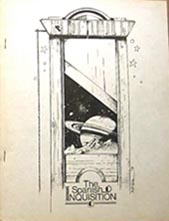 The Spanish Inquisition is a science fiction fanzine by Suzanne Tompkins and Jerry Kaufman.
The Spanish Inquisition was edited and published in the 1970s in New York City, New York, U.S.A. Ten issues were released.
Contributors included Ginjer Buchanan, Michael Carlson, John Curlovich, Moshe Feder, Michael Glicksohn (Energumen, Xenium), Gary Goldstein, Mike Gorra, Laura Haney, Terry Hughes (Mota), Rob Jackson (Maya), R. A. MacAvoy, Loren MacGregor, Patrick McGuire, Sandra Miesel, Peter Roberts (Checkpoint), Elliot Shorter, Jeff Schalles (Rune), Jon Singer, Mae Strelkov, Gene Wolfe, and the editors.
Contributions of art work were from Randy Bathurst, Harry Bell (Grimwab), Grant Canfield, Ross Chamberland, Vincent DiFate, Connie Faddis (Interphase), Ken Fletcher (Rune), Phil Foglio, George Foster, Alexis Gilliland, Gary Goldstein, Bill Kunkel (Rats!, Four Star Extra), Wendy Lindboe, Sam Long, Barry Kent MacKay, Tim Marion, Jim McLeod (Interplanetary Corn Chips), Andy Porter (Algol), Bill Rotsler, Stu Shiffman (Raffles), Marc Shirmeister, James Shull, Al Sirois, Dan Steffan (Boonfark), Steve Stiles, Reed Waller, Taral Wayne (DNQ), and Jim Young.
In 1977 The Spanish Inquisition won the FAAn Award for Best Fanzine.
Suzanne 'Suzle' Tompkins had previously co-published Granfalloon with Linda Bushyager. After The Spanish Inquisition, Suzle and Jerry went on to publish Mainstream in the 1980s, and Littlebrook in the 2000s.