The Pac-Man Fever
From ZineWiki
Jump to navigation
Jump to search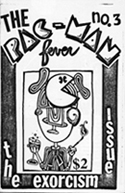 The Pac-Man Fever was a perzine by Rascallion.
The Pac-Man Fever included observations, stories, lists, opinions, comics and articles on themes such as growing up, relationships, surviving capitalism, resistance to oppression, DIY, depression, identity, and getting arrested by the police for drinking down by the railroad tracks. All of this was lavishly illustrated with striking black and white ink drawings and cut and pasted photos, and told from a queer, trans point of view.
A number of issues of The Pac-Man Fever appeared in the late 1990's.