The Miskatonic
From ZineWiki
Jump to navigation
Jump to search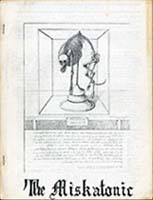 The Miskatonic is a fanzine published by Dr. Dirk W. Mosig in the 1970s.
The Miskatonic is a zine devoted to H. P. Lovecraft, and featured articles, poetry, research and at least one piece of fiction in every issue. It was first published in Americus, Georgia, U.S.A. and subsequently in Kearney, Nebraska, U.S.A.
Contributors have included Uwe Anton, F. Lee Baldwin (The Star Rover), Donald R. Burleson, K. Allen Daniels, Walter Gillings, S.T. Joshi, John Rieber, J. Vernon Shea (Outre), James Wade, Neal Wilgus, and Donald Wandrei.
The Miskatonic was distributed by Esoteric Order of Dagon, an APA devoted to H. P. Lovecraft.
The entire run of The Miskatonic was published as a two volume book by Moshassuck Press in 1991.
Crypt of Cthulhu devoted their 33rd issue to Dirk Mosig.
External Links