The Dark Shadows Quarterly
From ZineWiki
Jump to navigation
Jump to search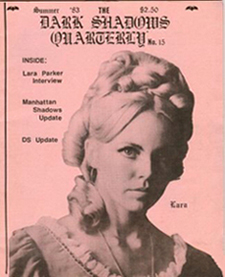 The Dark Shadows Quarterly was a fanzine published by The International Dark Shadows Society.
Devoted to the television serial Dark Shadows, The Dark Shadows Quarterly was edited by Joseph Lilley. The first issue appeared in Winter 1978. At least 16 issues were released, with issue 16 published in Spring 1984. Features included reports from "Shadow Con", the Dark Shadows Convention, news, and events, interviews with the actors of Dark Shadows, biographies of the actors, articles, fiction, movie and album reviews, and photos.
Interviews with the stars of Dark Shadows included Joan Bennett, who played 'Elizabeth Collins Stoddard'; Louis Edmonds, who played 'Roger Collins'; Grayson Hall, who played 'Dr. Julia Hoffman'; and Lara Parker, who played 'Angelique'.
Contributors included Stephen Bridget, Joseph Lilley, Matthew Pendino, and Theresa Ryan, among others.
Joseph Lilley's interview with Louis Edmonds was later reprinted in The World of Dark Shadows #13.