That Girl
From ZineWiki
Jump to navigation
Jump to search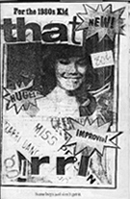 That Girl is a zine published by Los Angeles, U.S.A. and San Francisco, U.S.A.-based zine writer Kelli Williams, who also publishes under the name Kelli Callis. The first issue was published in 1993. The series is a perzine with a feminist and usually humorous slant.
Included in issue two (due) of this cut and paste zine are detourned letters to teen magazines answered by the editor, a story by a contributor named Kelly about dealing with an ex-boyfriend who won't believe the writer is now queer, collages dealing with issues of female representation, "Facts about Maureen McCormick," a photo centerfold of The Frumpies playing live, a little article called "I'm Sorry Brenda Walsh Rules", which states she's "The Most Dangerous Woman In America", an essay entitled "Sugar & Spice & Fuck You!" by Kathy, and an interview with the editor's thirteen-year-old sister Kathryn.
Kelli had the tendency to change the spelling of "Girl" in earlier issues, leading to alternate titles such as "That Grrrl" and "That Girrl."
An excerpt from That Girl appeared in Volume Three of Zine Yearbook, published in 1998. That Girl is included in the Sarah Wood Zine Collection at Duke University, the West Coast Zine Collection at San Diego State University, the Sarah and Jen Wolfe Zine Collection at The University of Iowa, and the Barnard Library Zine Collection.
Kelli published the zine 20 Bus in the early 1990s, and later published Kurt Cobain Was Lactose Intolerant Conspiracy Zine.
External Links