Teen Fag
From ZineWiki
Jump to navigation
Jump to search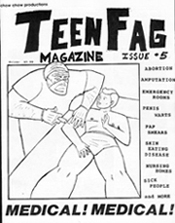 Teen Fag was a queer zine published by Gordon Gordon.
Created in Seattle, Washington, this publication first appeared in the 1990's and was issued for a number of years. Six issues appeared during that time, the last one a compilation of highlights from previous issues.
Each issue contained interviews, articles and comics. Issues of Teen Fag have included an interview with comics artist Roberta Gregory; a lengthy article on Frances Farmer; an interview with a bath house patron; interviews with men meeting through personal ads; the "Bad Homos" issue with articles on Roy Cohn, Dean Corll, Jeffrey Dahmer, John Wayne Gacy, J. Edgar Hoover, Leopold and Loeb, and Aileen Wuornos; the "Medical! Medical!" issue with articles on going to the emergency room, abortion, pap smears, penis warts, sick people and modern diseases; and comics and illustrations by the editor.
Other illustrations and comics featured in Teen Fag were by Sarah Bell, Anonymous Boy, Bonsoir Dindon, King VelVeeda, David Kelly and Robert Kirby, co-editors of Boy Trouble, LMNOP, creator of babysue, and Blair Wilson.
There are also reviews of recordings by bands such as Devo, Fagbash, Fifth Column, Heatmiser, The Jesus Lizard, The Make-Up, Mukilteo Fairies, S. F. Seals, Sister George, Team Dresch and Tribe 8, and reviews of zines such as Boy Trouble, Concerned Müthers, Cornhole, Dwan, Farm Pulp, Happy Fag, Holy Titclamps, Inkling, Outpunk and RapturePuss.
Teen Fag is included in the Sophia Smith Collection at Smith College.
External Links