Tales of a Travelling Panty Salesman
From ZineWiki
Jump to navigation
Jump to search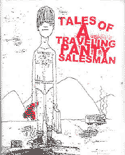 Tales of a Travelling Panty Salesman is a photocopied one-shot zine by Lew Houston.
This zine tells the story of a man on tour with a "rambunctious" rock band. The title refers to the band's sale of panties as part of their merchandise, and the embarrassing moments that occurred as a result.
Houstom is also the editor of Blurt!.
External Links