Stories Care Forgot: An Anthology of New Orleans Zines
From ZineWiki
Jump to navigation
Jump to search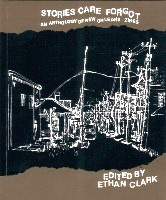 Stories Care Forgot: An Anthology Of New Orleans Zines is a zine compilation book published in 2006 by Last Gasp that was edited by Ethan Clark, with an introduction by John Gerken. The book description says:
"For years the punk and zine community has thrived, producing beautifully rendered volumes of stories and artwork. Over the years these authors have poured their hearts out and shared their thoughts and opinions on music, politics, bikes, gentrification, gender, class and, of course, the city itself. Reprinted here in their original format are selections from over a dozen zines including: Chainbreaker, Nosedive, Crude Noise, Rocket Queen, Emergency, I Hate This Part of Texas and Chihuahua and Pitbull, as well as author introductions about their experiences during and after Hurricane Katrina. Many of the originals have been lost or destroyed and in the wake of Hurricane Katrina, this book serves not only as a preservation of writing and artwork, but also as an attempt to aid in rebuilding the city that inspired and shaped this body of work. Proceeds from Stories Care Forgot will be split amongst grassroots New Orleans groups."
The book was a 3,000 print run put out by Last Gasp publishers. Proceeds from the book were given to various grassroots New Orleans groups which were reported as being the Community Labour United, the New Orleans Community Bike Project and the People's Hurricane Fund. The zines in the book are from the late 1990s and early 2000s and editor Ethan Clark attempted to include zines that were released in New Orleans at that time and that were inspired by the city. Excerpts from Clark and 19 other zinesters are reproduced in their original form.
Among the contributors are names associated with the NOLA Bookfair, the annual D.I.Y. and small-press literary event; Plan B, the community bicycle-repair workshop in Faubourg Marigny; Food Not Bombs; The League of Pissed-Off Voters, a political information group intended to mobilize progressive-thinking locals to participate in the city's political process, and The Neighborhood Story Project, an ongoing effort that collects and publishes individual histories from local neighborhoods. Eleven of the authors of the Stories Care Forgot have lived, worked and been involved in community organizations and activism in New Orleans. Several were there throughout Hurricane Katrina.
The stories in the book are divided into four sections: "Stories Care Forgot" (a miscellaneous section), "Neighborhoods", "Jobs" and "Stories Care Forgot 2" which contains some post-Katrina tales. There are a very mixed collection of stories told in the book, both humorous and serious, with different writing styles and layouts. These include stories chronicling the bicycle culture of the city (messengers, repair shops, bike-delivery races), articles about urban planning disasters, stories about nearly getting attacked by wild dogs, about the sex industry in New Orleans, and a comic celebrating the bizarreness of life there. Twenty zines were represented included those named above as well as Factory Direct, A Gentrification Reader, Dear ___, I Wrote This Zine For You, and several others.
There was a book tour in February and March 2006, as well as zine readings and book signings in several states in the US. The book tour occurred mainly in alternative books shops but also included zine libraries, and illustrates potential venues for zine tours: the visited venues were Internationalist Books in Chapel Hill (NC), Rebel Books in Wilmington (NC), Sentient Bean in Savannah (GA), Hot Corner in Athens (GA), Criminal Records in Atlanta (GA), Lemuria Books in Jackson (MS), Poison Girl in Houston (TX), Monkey Wrench Books in Austin (TX), Harlowe's in Albuquerque (NM), Dry River Collective in Tucson (AZ), Trunk Spance in Phoenix (AZ), Che Café in San Diego (CA), Rock Paper Scissors Collective and also Needles and Pens in San Francisco, Evo's in Ashland (OR), Reading Frenzy in Portland (OR), Last word books in Olympia, Confounded in Seattle, Shakespeare and Co in Missoula, the Denver Zine Library in Denver, Antiquarium books in Omaha, Quimby's in Chicago and Ragtag in Colombia (MO).