Stolen Sharpie Revolution
From ZineWiki
Jump to navigation
Jump to search
144 Pages | 1/4 Size | ISBN 978-0-9817941-0-5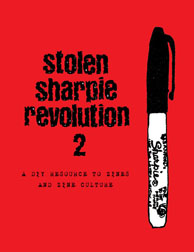 Stolen Sharpie Revolution: A DIY Resource for Zines and Zine Culture is written by Alex Wrekk. A comprehensive guide to DIY, zines, and zine publishing, Stolen Sharpie Revolution provides a plethora of practical tips and resources, making it an invaluable bible of resources for zinemakers new and veteran to the craft. It is mostly presented in a cut-and-paste layout evocative of zines.
The book include sections for zine making tips, zine layout and printing, zinester etiquette, promotion, distribution, mailing, the zine community, zine events, zines and the Internet, and dealing with incarcerated individuals, plus skill shares on block printing, binding, paper-making, and mail art. Stolen Sharpie Revolution also includes a comprehensive appendix of zine libraries, distros and stores, review zines, and online zine resources.
Stolen Sharpie Revolution was first published by Microcosm Publishing in 2002 (96 pages, 1/4 size). A second edition was released in 2003 (128 pages, 1/4 size), and the third edition was released in 2005 (160 pages, 1/4 size). In 2009, Wrekk completely rewrote the book and self-published it in a new edition, titled Stolen Sharpie Revolution 2, with an initial print run of 4,000.
Table of Contents
Intro - What does Stolen Sharpie Revolution mean anyway?, What is a zine you ask?
Zine Making Tips - How to find, make, revise, copyright, etc.
Zine Layout and Printing - templates, affording, binding
Skill Share - Stencils, block printing, bookbinding, paper making
Postal Fun - Letters, post boxes, U.S. mail, mail crafts
Zine Community - Trading, promoting, prisoners
Distros (Distributors) - Finding, submitting to, distro terms, starting a distro
Zine Events - What to do at, organizingm promotingm zine readings
Zines and the Internet - Blogs vs. zines, resources, Etsy
Zine Resources and Listings - Events, in classrooms, libraries, distros, stores, review places, creative reuse, outro
Index
Reviews
"This pocket-size red book is meant as an introduction to all things zine. The first big chunk of the book is all about creating zines and covers topics including supplies, writing and printing tips, fair use, copyright, copy left, creative commons, revision, layout, covers, and binding. ... In this completely rewritten and greatly expanded new edition of SSR, long-time zinester and author Alex Wrekk goes a long way to help newbies learn the ropes. This book is like having a mentor tucked in your backpack." --Zine World #28
"This cute little thing was such a great little edition to my zine collection. Bright red and handy to pop in your bag when you are out and about; it is packed full of really great useful pieces on zines, distros, mailing and loads more. ... From how to make your own paper to mail craft to setting up your own distro it is packed full of tips and places to go seek out inspiration and other things that may interest a zinester. The best thing for me is that it isn't written to tell you how to write a zine, it is there to inspire and give you tips, seek out various resources and go off and do your own thing." --Book Spew
"Created by Alex Wrekk of Brainscan, this is the absolute ultimate pocket guide to everything you ever wanted to know about creating zines. For this fourth edition of Stolen Sharpie Revolution, Alex decided to call this edition "#2" because of the incredible overhaul of all of the information from the past editions. ... Highly recommended for both the beginner or, the seasoned zinester who needs a good motivator."--Click Clack Distro
External Links