Stellar
From ZineWiki
Jump to navigation
Jump to search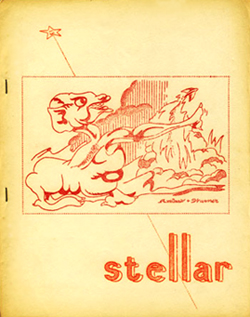 Stellar was a science fiction fanzine by Larry Stark and Ted White.
Stellar began life as Zip, edited by Ted White. With issue 8, published in 1956, White changed the name to Stellar and Larry Stark joined as co-editor. The two editors released Stellar until 1957, with 23 issues published.
In his article "What Are The Greatest Fanzines?" for Vegas Fandom Weekly, Arnie Katz writes, "Stellar...established faan Fiction (fiction about fans) as a genre and also explored new frontiers of multi-color mimeography.Stellar presented both classic reprints and new stories that attempted to bring the values of fiction to stories about fans and Fandom."
Contributors of writing included Charles Burbee (Shangri L'Affaires), Randall Garrett, Robert Madle (Fantascience Digest), and Harry Warner, Jr. (Horizons).
In the early 1950s, Larry Stark also co-edited the fanzine Potrzebie with Bhob Stewart and publisher Ted White, dedicated to EC Comics. With Jean Young, Stark also did the fanzines Garage Floor, The Cambridge Scene and Tra-La. In 1958 Stark released A David English Sketchbook, dedicated to the illustrations of David English, editor of Fantasias.
In 1953, Ted White edited and published Zip, his first fanzine. Later in the 1960s, he was a co-editor of Void when he joined the founding editors, Greg and Jim Benford, followed by Gambit, Null-F (for FAPA), Minac with Les Gerber, Egoboo with John D. Berry, Crank with Rob Hansen, egoscan, and BLAT! (with Dan Steffan) in the 1990s.