Spearhead
From ZineWiki
Jump to navigation
Jump to search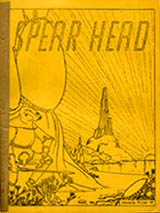 Spearhead was a literary and poetry zine edited by Thomas H. Carter.
Spearhead ran six issues from May 1948 to Spring 1951. It was published in Martinsville, Virginia, U.S.A. It was handset and printed by William Danner. Associate editors were Clarence Fair, John Taylor, and Nelson Teague.
The second issue (July 1948) featured an essay on H. P. Lovecraft by William T. Track.
The third issue (August 1948) featured fiction by David H. Keller, Thomas H. Carter, and Wrai Ballard, an article on Ray Bradbury (Futuria Fantasia) by John Troy Sternwood, and cover art by Ray Nelson.
Contributions for the fourth issue (Fall 1949) included the short stories "Blow-Up Mission" by Joe Kennedy (Vampire), "Solubility" by Arthur H. Rapp (Spacewarp), and "One More Cat" by David H. Keller, MD, and poetry by R. Flavie Carson, Don Hutchison (Macabre), and Herman King. August Derleth also provided an article on Keller. Cover art was by Howard Miller (Dream Quest).
Along with poetry by Stanton Coblentz (Wings), e.e. cummings, August Derleth, Joe Kennedy, Lilith Lorraine (Different, Challenge, Flame), Clark Ashton Smith, and Evelyn Thorne (Epos: A Quarterly of Poetry), the fifth issue (Summer 1950) also included an article by David H.Keller on "The World Destruction Theme" and a review of Ray Bradbury's The Martian Chronicles by Anthony Boucher.
The final issue featured the poems "Since We Are Property" by Lilith Lorraine and "The Outer Land" by Clark Ashton Smith.
Other contributors throughout included Redd Boggs (as Theophilus Alvor) (Sky Hook), John Holbrook Caley, Judson Crews, A.Y. Gordon, Zane Grey, Leslie Hudson, Terence Heywood, John W. Jakes, Merrill Moore, Robert Conrad Pederson, Samuel Anthony Peeples, George Scheftel, Bob Tucker (Le Zombie, Science Fiction Newsletter), William Carlos Williams, and others.
Thomas Carter also ran Spearhead Press, which published XJ (Joe) Kennedy's book No Greater Dream and other Fantastic Tales (a collection of four short stories) in 1949, for which Carter wrote the introduction.
Thomas H. Carter was also one of the founders and editors of The Shenandoah Review and, upon his tragic death in 1963 at age 32, was made the namesake of its literary prize for nonfiction.