Science Fiction Echo
From ZineWiki
Jump to navigation
Jump to search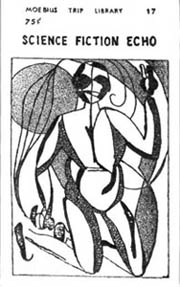 Science Fiction Echo was a science fiction fanzine edited by Edward C. Connor (d. 1999) and published by Moebius Trip Library.
Science Fiction Echo was published in Peoria, Illinois, U.S.A. from 1969 till 1974. It began life as Moebius Trip but the name was changed to Science Fiction Echo with issue 17. At least 26 issues were published, with issue 26 released December 1977. Previously, Connor had published a single 4-page issue of Science Fiction Echo in June 1942.
Contributors of art work included Brad Balfour, Gail Barton (Eridani Triad), Sheryl Birkhead (The National Fantasy Fan), Dave Burton (later editor of Pixel), Margaret Dominick (DEA), Jackie Franke (Dilemma), Alexis Gilliland, Terry Jeeves (ERG, The Damned Patrol), Florence Jenkins, Frank Johnson, Eddie Jones, Tim Kirk, William Rotsler, Dave Lewton, Jeff Schalles (Rune), Mike Scott, and Andrew Stephenson.
Contributors of writing included Don Ayres, Mervyn Barrett, Eddy C. Bertin (later editor of Dunwich Dreams), Donn Brazier (Title), Roger Bryant, Perry A. Chapdelaine, Cy Chauvin, Kenneth W. Faig, Jr., Leslie Fielder, David Gerrold, Ben Indick (Ibid), Mary Reed Legg (Crabapple), David Lewton, Sam Long, Gary Mason, Omar McBarsoom, Joe F. Pumilia, Jeff Schalles, Michael Shoemaker (Oxytocic), Ron Smith, Mae Strelkov, Angus Taylor, Leon Taylor, Blair Tiffany, Paul Walker, and Billy Wolfenbarger.
Poetry was contributed by Rose M. Hogue.
Interviews with Robert Bloch and Joanna Russ were featured.
Letters came from John J. Alderson, Paul Anderson, Sid Birchby, Robert Bloch, Ned Brooks, Ed Cagle, Ann Chamberlain, Lisa Conesa (Zimri), Perri Corrick (Corr), Leigh Couch (Sirruish), Frank Denton (Hoom, Ash-Wing), Leigh Edmonds (Rataplan), Dan Goodman, Mik Glicksohn (Energumen), David Gorman, Harry Harrison, Dorothy Jones, Ursula K. Le Guin, Sandra Miesel, Andy Offutt, Rosemary Pardoe (Les Spinge, Seagull), Roger Waddington, and Harry Warner, Jr. (Horizons).