Ripe
From ZineWiki
Jump to navigation
Jump to search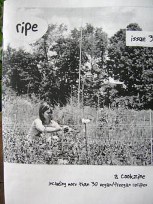 Ripe is a 1/4-letter size vegan cookzine published by Jae Steele of Montreal, Quebec. Each issue features a number of vegan recipes, along with cooking articles and product reviews.
Ripe is a follow-up to jae's first cookzine, Vegan Freegan (2002).
Much of the content of these zines, along with other holistic health information, will be published by Arsenal Pulp Press (arsenalpulp.com) in 2008 as a cookbook called Get It Ripe: A Fresh Take on Vegan Living.
Issues
Ripe #1 - The smallest of jae's cookzines, with 20 recipes including Almond Milk, Bran Muffins, Wholesome Grain Bread, Heavenly Herb Bread, crispy-fried Tofu, Guacamole, Moroccan Garbanzo Bean Soup, and Cowgrrrl Cookies. There's also a mango cutting tutorial, a fun article on quinoa, product reviews, and a list of her top ten favourite cookbooks.
Ripe #2: winter recipes - 40 recipes described as vegan comfort food including Oatmeal, Homefries, Rosemary Mushroom Gravy, Borscht, Leek & Potato Soup, Root Mash, Millet and Seed Stuffing, Pad Thai, Carrot Cake, Hot Toddies and Candied Corn. Also includes a guide to essential ingredients for stocking your kitchen.
Ripe #3 - This 80-page zine includes Morning Muslei, Corn Cakes, Fried Green Tomatoes, Applesauce, Mango Salad, Tabouleh, Ginger Sesame Pasta Salad, Bruschetta, Cannelini Kale Soup, Sweet Potato Soup with Coconut Milk, Portabella Burgers, Pizza, Indian spice mixes, Mangoes with Coconut Milk Sticky Rice, Rhubarb Crumble, Cherry Pie, Zen Brownies, Dr. Razzle Tazzle's Chocolate Raspberry Explosion, and Coffee Syrup. It also gives a rundown on essential kitchen equipment, product reviews, and tutorials on sprouting avocado plants and trapping fruit flies.
Ripe #4 - This is the only issue that was printed offset and with a full colour cardstock cover, instead of on a b&w photocopier. Some of the 40 recipes included are Cinnamon Swirl Biscuits, Zucchini Date Muffins, Polenta, Miso Gravy, Reduced Balsamic Vinaigrette, Three Lentil Soup, Maple Roasted Roots, Chipotle Blackeyed Peas with Maple Mashed Sweet Potatoes, Fettucini No-fredo, Lentil Loaf, Lime Coconut Cake, Carob Chai Cake with Cardamom Icing, Rice Pudding, Peanut Butter Cookies, and something like Tiramisu. There's also product reviews and a discussion about the importance of organic food.
To Order
External Links