Rictus
From ZineWiki
Jump to navigation
Jump to search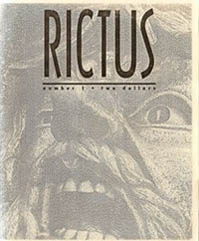 Rictus is a literary fanzine devoted to horror fiction and the supernatural, edited and published by Mary E. Spock.
At least eight issues were published in Washington, DC, U.S.A., during the 1990s. Each issue featured horror and dark fiction and poetry. Issue 2 was released in July 1994. By issue 9 it had moved to the Internet.
The Art Director was M. Leclair.
Contributions of artwork came from Michelle Frankfurter.
Contributions of writing came from Lawrence Barker, Donna Taylor Burgess (The Blue Lady), Lance Carney with David Moss, William D. Cissna, Bob Cook, Deidra Cox, Holly Day, Danya D'Arcy (Literatia Macabre), D.E. Davidson, Thomas Deja, C.S. Fuqua, Ken Goldman, Gerard Daniel Houarner, William Laughlin, D.F. Lewis (Nemonymous), David Lindschmidt, Mark McLaughlin (The Urbanite), Kurt Newton, William P. Robertson, Steven L. Shrewsbury, Margaret Smith, Scott Thomas, and others.
Contributions of poetry came from Michael Arnzen, Carolyn Coleman, Bob Cook, Charlee Jacob, Herb Kauderer, Steve Medaris, Myeki, Saadia R., William P. Robertson, Robert J. Rodda, Deloris Selinsky, Margaret Smith, Mary E. Spock, Karen Verba, and Jonathan Yungkans.