Quark
From ZineWiki
Jump to navigation
Jump to search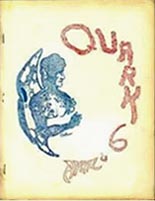 Quark is a science fiction fanzine published by Lesleigh Couch and Chris Couch in the 1960s.
Quark was published in St. Louis, Missouri, U.S.A. While it was a science fiction fanzine, it also became well known for its coverage of the rock music scene of the era as well.
Contributors of writing included Arnie Katz (FIAWOL), Georgina Ellis (Honque, Queebshots, Descant), Mike Novak writing about "The St Louis Rock Scene", Greg Shaw (Mojo-Navigator Rock & Roll News) on music, Creath Thorne, and Ted White (Gambit, Null-F). Columns were by Jerry Kaufman (later co-editor of The Spanish Inquisition), and Jim Reuss's "If You Don't Love Computers".
Contributors of art included Seth Dogramajian, Mike Gilbert and Gene Simmons (as Gene Klein) (Faun).
Quark was distributed by the Southern Fandom Press Alliance.
Lesleigh Couch went on to co-publish Starling with Hank Luttrell.