Quantum
From ZineWiki
Jump to navigation
Jump to search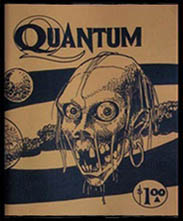 Quantum was a science fiction and fantasy fanzine edited by Ric Bergman, Allen Curry, Marla Gold, Paula Gold, Art Metzger, and Mike Streff.
Quantum first appeared in 1975 in Cincinnati, Ohio, U.S.A. It continued to be published up to Volume 4, No. 4, released in 1978.
Contributors of writing included Mike Banks, Don Carter, Al Curry, Tanya Curry, M. Hendricks, George S. Howard, Rocky Karlage, John Kelly, Arthur Metzger (Laughing Osiris), Robert Nathan, Basil Shroppford Sloane, Steve Sneyd (Data Dump), and Barry Switzer.
Poetry was by Reed Andrus and Jessica Amanda Salmonson (The Literary Magazine of Fantasy and Terror, Windhaven).
Contributors of art work included Dan Braun, Grant Canfield, Ray Capella, Michael Devanneu, Gary Fowler, Jack Gold, Allen Holub, Terry Jeeves (ERG), Alan Larkin, Barry MacKay, Tom Miller, Steve Oliff, John Rodak, Stephanie Schneider, James M. Shea, Jr., Mike Streff, and Brute Tornley.
Letters came from Robert Bloch, Donn Brazier (Title, Farrago), L. Sprague De Camp, Jackie Franke (Resolution), Mike Glicksohn (Energumen, Xenium), Ben Indick (Ibid), Robert Nathan, Andrew Porter (Algol), Wilum Pugmire (Midnight Fantasies), Darrell Schweitzer, Kenneth Smith, and Harry Warner, Jr. (Horizons).
Al Curry also published the fanzine Gnomenclature. Paula Gold also published the fanzine Risteria.