Punk Lust
From ZineWiki
Jump to navigation
Jump to search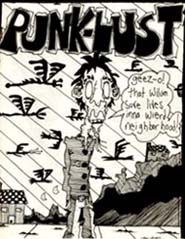 Punk Lust is a punk zine by Wilum Pugmire from Seattle, Washington, U.S.A.
Wilum Pugmire gives the year 1981 as the date the first issue was released. The fanzine ran until 1997, with 18 issues published.
The zine covered the punk scene in the Pacific Northwest and the bands of the era, such as Solger, Hazel, Godhead Silo, and the Fastbacks. It also included fiction, poetry, essays, art work, comics, reviews of records from the label K Records, and others, and letters from young punks such as Mark MacLaughlin (of the bands Limp Richards and Green River) a.k.a. Mark Arm, editor of The Attack.
Contributors of writing included Daniel Bailey, Verna Dogherty, Steve Fart, Mish-L, Todd Nelson, Carol Pearsall, Jessica Amanda Salmonson, and Cristien Stroszeck, among others.
Art work was contributed by Carl Alessi, David Billman, Captive, John Crawford, Damien, Lee Ellingson, Murad Gumen, Jag, Allen Koszowski, Karen Rasco, Stanley C Sargent, Maurice Squid, Cristien Stroszeck, Jeffrey Thomas, and Blair Wilson.
Comics were by John Crawford, and Vince Ransid.
Letters came from Mark Arm (Mark MacLaughlin), Fuchsia Crass, Steve Duff, Steve Fart, Scott Russell, Jo Smitty, Robin Storey, and Gary Svehla, among others.
Wilum Pugmire has stated: "Punk rock gave me the guts to be myself, and for this I shall be eternally grateful."
As editor of Punk Lust, he was interviewed by the zine Punk Research.
Wilum Pugmire also published the fanzines Midnight Fantasies and Old Bones in the 1970s and Queer Madness in the 1980s. In the 2000s, he released the title Idiot Chaos.
External Links