Pressed Between the Pages
From ZineWiki
Jump to navigation
Jump to search
Pressed Between the Pages (ISSN 1934-3973) is a perzine by Alan Lastufka.
Issue 1
Only 100 copies were ever printed of Pressed Between the Pages #1, and those were printed, in color, by Bravest Lil Jenn Publishing.
Issue #1 contained stories about Alan's friends, ex-es, his first and only time performing on stage and a few poems. The cover was illustrated by Cristy Road (Green Zine, Indestructible book) and the stories inside were illustrated by Sage's (Eye Candy, Tattooed Memoirs, Marked For Life) daughter Emily (Birds), age 5.
Punk Planet Review
"Though this chapbook of poetry and prose is fairly brief, it nevertheless has several examples of something that occurs all too infrequently in the zine world: decent poetry. In his introduction, the editor makes it sound as if he casually dashed off some of his poems the week before. It's entirely possible that this is the case, but his poems suggest rather more thought and craft than he admits to.
One poem encapsulates the longing of a long-distance romance: "Lost for hours in songs that I can't / but really want to unfurl / pretending I too can relate to every line / about a boy and a girl." Even more poignant is an elegy to the editor's mother that is likely the only instance of zine poetry that is capable of stirring true emotion.
This zine is well worth seeking out for these two poems alone, and it will be interesting to see how this writer develops in years to come."
-Punk Planet #75
Issue 2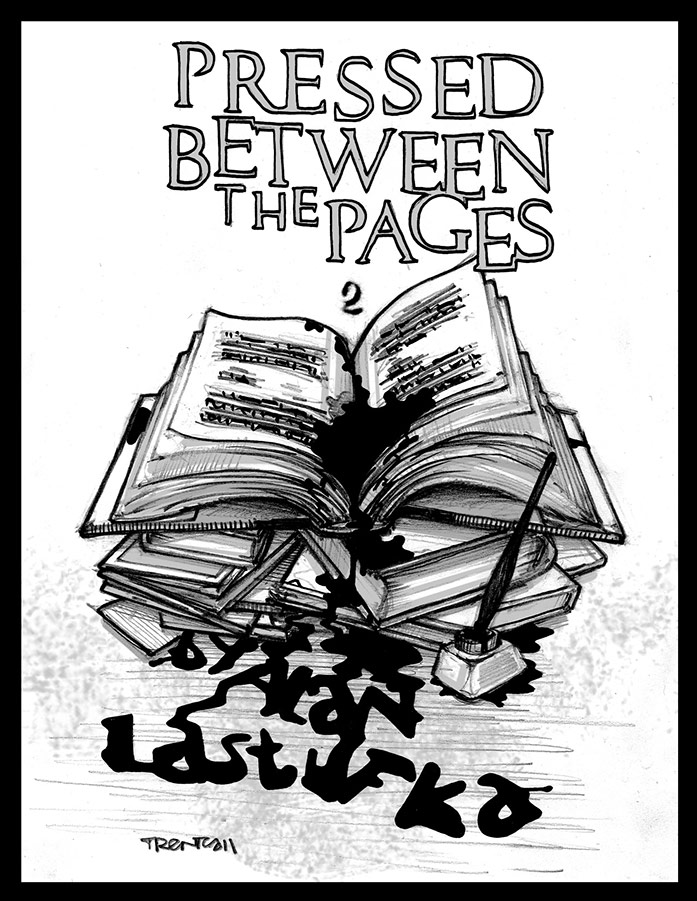 Pressed Between the Pages #2 had a print run of 200 copies. This issue featured no poetry, unlike the previous debut issue, but added a section of zine reviews not found in issue one. This issue also changed the size format from the last issue, opting for a quarter-sized layout over the half-sized (digest) issue one.

The cover art was created by Trent Call of Swinj zine.
A free Pressed Between the Pages 1" button, made by Alex Wrekk, was included with the first 50 copies sent out.
External Links