Oxytocic
From ZineWiki
Jump to navigation
Jump to search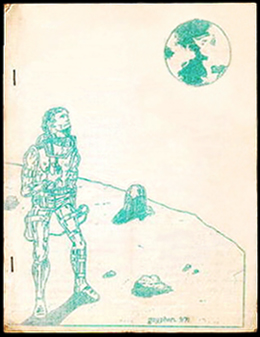 Oxytocic was a science fiction fanzine by Michael T. Shoemaker.
13 issues of Oxytocic were published in Alexandria, Virginia, U.S.A. in the early 1970s.
Issue 5 was published in November/December 1971, and included front and back covers by Bruce Townley (Oblong), an editorial by Michael Shoemaker, articles by Richard Laurents, John J. Pierce, and Bruce Townley, reviews by Ted Pauls, and interior illustrations by Bruce Townley.
Issue 6, from Spring 1972, features a front cover by Mark Jenkins (HYPErion), back cover by Bruce Townley, and interior illustrations by Dan Osterman and William Rotsler. Articles are by Richard Laurents, and Michael Shoemaker, with an editorial by Michael Shoemaker, and reviews by Bruce Townley.
Issue 7, from August 1973, includes a front cover by Alexis Gilliland, interior illustrations by Sheryl Birkhead (The National Fantasy Fan), Eric Kitagawa, and William Rotsler, an editorial by Michael Shoemaker, and articles by Richard Laurents and Michael Shoemaker.
Issue 12 appeared in June 1975, and included the 11 page article on Raymond Z. Gallun and the writers he influenced, titled "Godchildren of Gallun" by John J. Pierce.
Issue 8 appeared in December 1973, issue 9 in March 1974, issue 10 in June 1974.
Issue 11 was published in November 1974, with cover art by Glen Palmer.
Issue 12 was released in June 1975, and Issue 13, the last issue, was published July 1976, included the article "Ed Cox Doodle Where?" by Dave Locke, reprinted years later in his fanzine Time and Again #5, in 2008.
Letters came from A. Phillipe Boyer, Donn Brazier (Title, Farrago), Cy Chauvin, Perry Chapdelaine, Mike Glicksohn (Energumen), Norman Hochberg, Donald G. Keller, Mike Kring, Eric Lindsay (Gegenschein), David Malvey, Mark Numper, Kenneth Ozanne, and Darrell Schweitzer.
Michael Shoemaker and Cuyler Brooks Jr. (editor of It Goes On The Shelf) later co-edited an edition of Arthur Machen's Guinevere and Lancelot, illustrated by Steven Fabian, and published by Purple Mouth Press.