Outworlds
From ZineWiki
Jump to navigation
Jump to search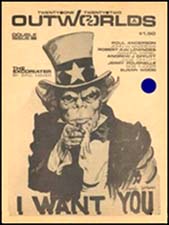 Outworlds was a science fiction fanzine published by William Bowers (1943-2005) and Joan Bowers in Ohio, U.S.A.
Prior to Outworlds, Bill Bowers had published the fanzine Star*Dust in the early 1960s. Outworlds was first released in 1970 and contained editorial content, columns, articles, reviews, poetry and artwork. Bill and Joan Bowers published it together for the first five years, and then Bill edited it on his own. It was a long running fanzine published throughout the 1970s, 1980s and the 1990s. The last issue, issue 70, appeared in 1998. Bill Bowers was preparing issue 71 for publication when he died.
Contributing artists included Terry Austin, Grant Canfield, Derek Carter, Nicola Cuti, Vincent Di Fate, Stephan E. Fabian, Philip Foglio, Mike Gilbert, Alexis Gilliland, C. Lee Healy, Alan Hunter, Ditmar 'Dick' Jenssen (Etherline), Eddie Jones, Tim Kirk, Jim McLeod, Bill Rotsler, James Shull, Walter Simonson, Al Sirois, Dan Steffan (Boonfark), and Steve Stiles.
Covers were by Grant Canfield, Linda Michaels, Taral Wayne (DNQ), and many others.
Contributing writers included Poul Anderson, John W. Andrews, Piers Anthony, Douglas Barbour, Greg Benford (Void), Dainis Bisenieks, Bernadette Bosky, Jeanne Bowman, Richard Brandt (Fanthology '87), G. Sutton Breiding (Ebon Lute, The Punk-Surrealist Cafe), William Breiding (Star Fire), Rich Brown, John Brunner (Noise Level), Terry Carr (Lighthouse), A. Vincent Clarke (Pulp), Buck Coulson (Yandro), Carolyn Doyle, Lloyd Arthur Eshbach, Philip Jose Farmer, John Foyster (Australian Science Fiction Review (second series)), Alexis Gilliland, Mike Glicksohn (Energumen), Ed Gorman, Joe Haldeman, Arthur Hlavaty, Andrew Hooper (Apparatchik), Dean Koontz (SF Opinion), Dave Langford (Ansible), Robert Lichtman (Trap Door), Dave Locke (Awry), Robert Lowndes, Susan Manchester, George R.R. Martin, Eric Mayer, Sandra Miesel, Sam Moskowitz, Andrew J. Offutt, Jodie Offutt, Patty Peters, Jerry Pournelle, Mike Resnick, Jessica Amanda Salmonson (Windhaven), Darrell Schweitzer, Chris Sherman (Antithesis), Bruce Townley (Oblong), Bob Tucker (Le Zombie), Taral Wayne, Ted White, Neal Wilgus, Gene Wolfe, Billy Wolfenbarger, and Susan Wood (Amor, Aspidistra).
Interviews by Dave Locke with Buck Coulson (Yandro), Al Curry (Quantum, Gnomenclature), Denise Parsley Leigh (Graymalkin), Walt Willis (Slant, Hyphen), and others were another feature of Outworlds.
The articles "The Island of Dr. Gernsbach" by Bernadette Bosky and Arthur Hlavaty, from issue 50, and "Clarion Fannish" by Terry Carr, from issue 52, were selected for reprinting in the anthology Fanthology '87.
One issue of Outworlds was a taped production on video, more recently re-released on DVD.
Outworlds was nominated five times for the Hugo Award for Best Fanzine.
Outworlds won the FAAn Award for Best Fanzine in the years 1975, 1976, and 1999.