Orca
From ZineWiki
Jump to navigation
Jump to search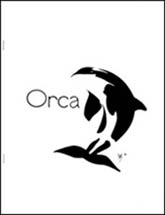 Orca was a science fiction fanzine by Jennifer Bankier.
Published in Ontario, Canada, in the mid-1970s, Orca saw two issues, the second one consisting of 105 pages, one of the largest issues of a zine published in Canada. Taral Wayne, from his unpublished work "Same As It Ever Was: Toronto Fandom 1940-1980", quoted in "Canfanhistory", writes that Jennifer, "...broke all Canadian records with a 105 page Orca 2 (The runners-up were CanFan 15th Annish, Energumen 14 and 15).".
Orca was one of the early SF fanzines to dwelve into feminist concerns. Jennifer's sister Amanda Bankier had published in 1974 what is now credited as the first feminist science fiction fanzine to appear, The Witch and the Chameleon, which Jennifer had contributed to.
Contributing artists included Taral Wayne (DNQ), who did the cover for the first issue.