Necronomicon
From ZineWiki
Jump to navigation
Jump to search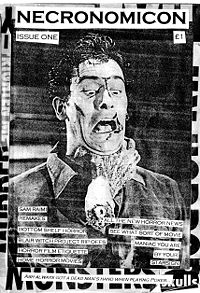 Necronomicon is a horror film fanzine by Necro Neil published in Yorkshire, in the UK.
The first issue was released in May 2001. It is a black and white, A5, cut and paste, stapled publication. As of 2013, 26 issues have been published.
It was named after the Book of the Dead from The Evil Dead movies and is refered to as 'Necro', where Necro Neil gets his nickname. It is unrelated to the 1990's fanzine of the same name.
Necronomicon has been described by it's author as " A love letter to the horror genre" and is known for its personal diary style.
The first issue explained the horror films Neil grew up with as a child in the 1980's and in the following issues went on to the challenge of commenting on every horror film he watched in the ten years it has been published.
The fanzine started off in a tight format of features about his favourite films, directors and actors (such as Evil Dead, An American Werewolf In London, Sam Raimi, Peter Jackson, Bruce Campbell) with reviews of dusty VHS rentals from his local video store until its closure. It developed into a much looser and personal style over ten issues but kept the nostalgic and geeky sense of humour. It now focuses on newly discovered retro horror films, mainly inspired by his parents video rental review book from the early 1980's.
The editor has been the sole writer and composer of the fanzine for over ten years with rare contributions from readers. Necronomicon is noted for debuting whilst VHS was still popular and has recorded the arrival of DVD, as well as online movie streaming.
It publishes on average two to three times a year and is sold through Yorkshire comic retailers, fanzine fayres, film festivals and all issues are available through Etsy year round.
Issues
Issue 1 Published May 2001 Featuring: Sam Raimi, remakes, found footage, straight to video
Issue 2 Published November 2001 Featuring: Peter Jackson, Danny Elfman, Ted Raimi, Nightmare On Elm Street
Issue 3 Published 2002 Featuring: American Werwolf In London, Army Of Darkness, Robert Englund
Issue 4 Published July 2002 Featuring: Jeffrey Combs, Dario Argento, Return Of The Living Dead
Issue 5 Published November 2002 Tim Burton, Tom Savini, David Lynch
Issue 6 Published May 2003 Featuring: Donnie Darko, Toxic Avenger, Julian Sands
Issue 7 Published 2004 Featuring: Demons, Friday the 13th, Palace video
Issue 8 Published August 2004 Featuring: Ghoulies, David Cronenberg, Ghostbusters, Fright Night
Issue 9 Published February 2006 Featuring: Critters, Childs Play, Rawhead Rex
Issue 10 Published October 2007 Featuring:Bruce Campbell, Lair Of The White Worm, Monkey Shines
Issue 11 Published August 2008 Featuring: Bruce Campbell, Terminator, Graveyard Shift, Drag Me To Hell
Issue 12 Published July 2009 Featuring: Lost Boys
Issue 13 Published November 2009 Featuring: Antichrist, Demon Seed, Pin, Jurassic Park
Issue 14 Published March 2010 Featuring: Gremlins, Beetlejuice, Dead Snow
Issue 15 Published July 2010 Featuring: Nekromantik, Hardware, Brainscan
Issue 16 Published October 2010 Featuring: Fright Night, The Brain, The Entity, Deadly Spawn
Issue 17 Published February 2011 Featuring: Jacob's Ladder, Pieces, Manitou, Troll, Tourist Trap, Chillers
Issue 18 Published June 2011 Featuring: Society, Xtro, The Gate 2, Final Exam, Video Dead, Pumpkinhead
Issue 19 Published September 2011 Featuring: Troll Hunter, The Changeling, Magic
Issue 20 Published December 2011 Featuring: Nightbreed, The Burning, Monster Dog
Issue 21 Published January 2012 Featuring: From Beyond, Burial Ground, The Thing, Poltergeist, The Fog
Issue 22 Published March 2012 Featuring: Rubber, Wolfen, The Hand, Metamorphosis, Body Parts
Issue 23 Published April 2012 Featuring: Night Of The Demons, The Blob, Lifeforce, Shadow Creature
Issue 24 Published July 2012 Featuring: The Keep, The Tenant, Spontaneous Combustion, Mausoleum
Issue 25 Published September 2012 Featuring: Alien, Parasite, Silence Of The Lambs, Manhunter, Predator
Issue 26 Published January 2013 Featuring: Dracula, Silver Bullet, Lost Boys, Bloodbeat, Amityville 2
External Links