Mobilivre-Bookmobile
From ZineWiki
Jump to navigation
Jump to search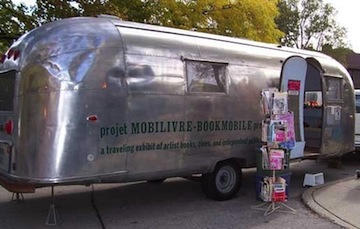 Mobilivre-Bookmobile was an annual touring library/gallery/ and exhibition of zines, artists' books and independent publications.
Based in Montreal, Quebec, Canada, and Philadelphia, Pennsylvania, U.S.A., for five years, from 2001 till 2006, the Mobilivre-Bookmobile commenced on a zine tour across North America in a 1959 Airstream mobile trailer that had been reconverted into a library and reading room, stopping at zine festivals, artist-run centers, schools, libraries, and community centers and opening its doors for anyone who wanted to read for free.
The Projet Mobilivre-Bookmobile Project was run by the Bookmobile Collective, a group of volunteers made up of North American artists and community activists. Members included Leila Pourtavaf and Ginger Brooks Takahashi, among many others. Each tour was accompanied by three Tour Guides who, during their stops across North America, would give workshops on such subjects as zine-making, book-making, flip books, accordian books, and book binding, as well as artists' talks, and educational forums on a community level. Their goal was to fuse artistic production with political activism and community organising. Each year they would select from submissions the publications that they would then take on tour, ensuring a wide selection from the worlds of zine publishing, artists' books, one-of-a-kind creations and independently released projects.
The Airstream would be pulled up to the curb and parked, its doors opened, and 1950's style lawn chairs and a revolving magazine rack set up outside, welcoming casual visitors and planned group visits alike to read the collection.
In 2015, The Bookmobile Book was published, detailing the history of the project from 2001 till 2005, and was edited by Courtney Dailey, Onya Hogan-Finlay and Leila Pourtavaf.
External Links