Mindsparks
From ZineWiki
Jump to navigation
Jump to search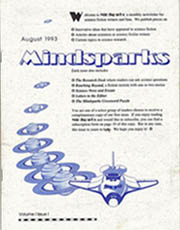 Mindsparks was a science fiction fanzine published by Molecudyne Reasearch and edited by Catherine Asaro.
Published in Laurel, Maryland, U.S.A. the 1990s, the first issue was released in August 1993. The Associate Editors were Risa Stewart and Kathleen Woodbury.
Contributors of writing included Catherine Asaro, John Kendall Cannizzo, Ph.D., Loring Emery, and Sandy Stewart.
Contributors of artwork included Cathy Buburuz, and Alfred Klosterman.
Letters came from Robert C. Danley and John L. French.